Why UPS sectional?

UPS sectional bed has a detachable construction. It could be accommodated in two or three cardboard boxes, depending on the customer's choice. Boxes measurements and weights comply with the UPS currier requirements, for low cost shipping anywhere in the world. That's why it is called UPS. Even the biggest complete adjustable bed base - for the twin King Size, is dismountable and could be accommodated in three boxes: two of them are with size 38" x 36" x 7" (95 x 78 x 22cm), and weight 65lb (31kg) and one is 38" x 12" x 9" (98 x 31 x 22cm) and weights 22lb (10kg). In case that the weight is not balanced according to UPS restrictions for low cost shipment, the UPS sectional bed could be packaged in two, instead of three boxes with the same size, and still shipped by UPS or any other currier. The full content of the boxes consist of: UPS bed frame with decorative cover panels attached to it, motor body accommodating two motors, wired/wireless hand control, six legs (optional) and a mattress guard. i.e. these are the bed base parts.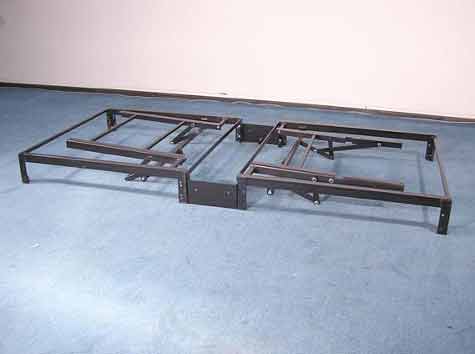 UPS bed frame

UPS bed frame is build up of welded steel profiles, powder coated with optional color. UPS bed sectional frame measurements could be in the following range:
Widths: from 30" to 38" (75cm to 110cm)
Lengths: from 80" to 84" (190cm to 210cm)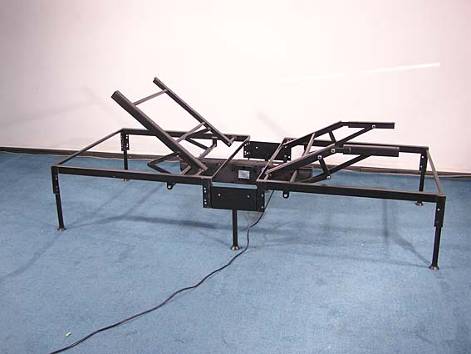 Electric Motors

German companies: OKIN and DEWERT are the suppliers of the electrical motors. Set of two, same type motors is accommodated in a PVC body. Motors have power supply : 115-120V, 60Hz, or 220V, 50Hz.



Legs

In case a standard metal frame for bed support is not to be used, (we don't provide it), the UPS bad frame is accomplished with a set of six metal legs. The leg height could be of customer's choice, as well as, any other type of legs could be chosen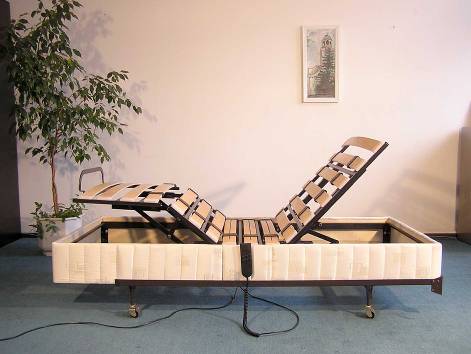 UPS slate sectional bed frame

Four slate sections are attached to the bed frame. Slats are in pares, and their hardness is adjustable, for reaching a bigger comfort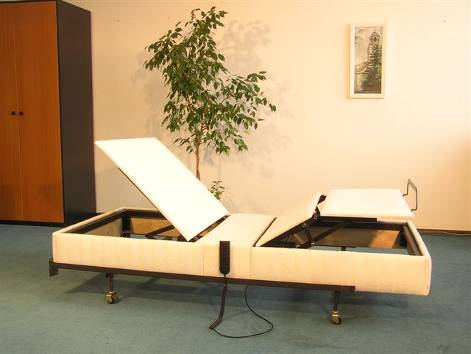 UPS plywood sectional bed frame

Four plywood sections, are mounted to the bed frame top. They are made of 4" (10mm) thick plywood which is upholstered.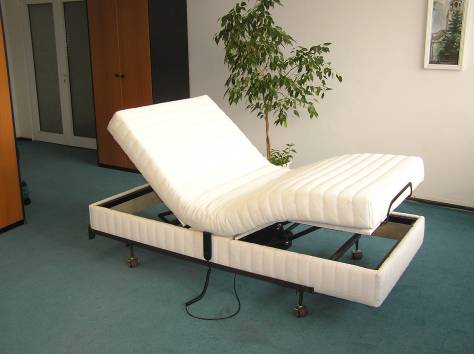 Decorative Cover Panels

UPS sectional bed frame is roundabout with decorate upholstered or plain wooden (or cheep board) panels,. They are 8.5"(22cm) high excluding the head board. Decorative material or wood color can be requested by the customer



Mattress

Our Company does not manufacture mattresses. However, we could supply mattresses to our adjustable beds, using subcontracting suppliers. Usually the type of mattress is latex or memory foam. It could be a vacuum type packaged roller with Diameter 10"(25cm), Upon request, we could provide the necessary quality mattresses of customer's choice